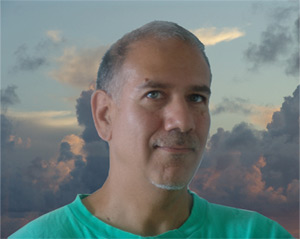 Roland Ruocco
6000 North Ocean Drive, Suite 14C
Lauderdale by the Sea, FL  33308
Phone:  954-786-1080
Email r2w2@comcast.net

---
BIOGRAPHY
Born and raised in Brooklyn, New York, Roland Ruocco early on developed a fascination in making art that reflected the world around him. Inspired by his urban surroundings, an early interest in trains, bridges and structures are clear in his earliest works from childhood. As a youngster he collected New York City Subway maps and soon developed an interest in mapmaking, which led him to design maps of imaginary cities with their own subway systems. As he began to read and collect Comic books he naturally began to draw the figure and incorporate the dynamic compositions of comic book illustration into his developing art style.
He attended The High School of Art and Design in New York City where he was exposed to serious graffiti art, which made a lasting impression on his overall artistic sensibility. After entering Pratt Institute in Brooklyn, N.Y. he was exposed to life drawing, painting sculpture, and the works of the Old Masters to study and learn from. After college he continued his studies at the Art Students League in New York City, and would spend hours in New York's art museums especially the Frick Collection studying the paintings of such early influences as Rembrandt, Vermeer, Fragonard and Boucher. It was here that Roland developed his love of landscape painting. In the more popular art realm his early influences included many of the great comic book illustrators of the seventies such as Jack Kirby, Gil Kane, Steve Ditko, John Buscema and fantasy art legend Frank Frazetta. This broad range of influences has resulted in Roland's ability to work in many different styles and subject matter as one can observe from his materials.
As a result from working for several years in old factory building studios in the DUMBO and Williamsburgh  districts of Brooklyn, coupled with their close proximity to the East Village in Manhattan he was exposed to additional artistic styles and mind sets, some of which are reflected in his work today. His exposure to and affiliation with grass roots arts movements were significant to Roland's outsider status and avoidance of the mainstream. His "Modern Times"TM series of works are intended to be courageous statements, which he would not classify, in trendy terms like "Lowbrow". In the mid nineties Roland began painting extensively outdoors, this led to an ongoing series of landscape studies that now includes what he has coined "The South Florida School"TM of landscape painting.  The "Earth Counterpart"TM series of landscapes is inspired by his early interests in mapmaking, climatology, and deep imagination. They depict an imaginary world in detailed climactic and regional maps that inspire painted visions of various locations of that world.
Since the mid-nineties Roland has shown actively both in New York and Florida and his list of collectors has steadily increased. Currently he works and shows out of his studio and exhibition space in Lauderdale by the Sea, Florida which he shares with his wife, artist Wendy White. He also exhibits his work in galleries in Fort Lauderdale, Miami, New York and Amsterdam, Holland.  Their workspace also serves as a base for their New Light Foundation, Inc. community outreach programs that involve the arts and education.